Historic Speech Recreated
On September 22, 1848, then Congressman Abraham Lincoln as a Whig Democrat, and as part of his nine city tour of Massachusetts cities, stumping for Zachary Taylor for President, spoke for one hour at The Historic Lorimer Hall at 88 Tremont St.. in Boston. He followed a speech by former Governor William Seward of New York. Lincoln's appearance and his speech, much like what will happen fifteen years later at Gettysburg, will receive less notice, less coverage, and less praise than that of Seward.
On September 22, 2012, The Civil War Round Table of Greater Boston d/b/a The Civil War Round Tables of Massachusetts with the help of The Massachusetts Civil War Sesquicentennial Commission sponsored a recreation of this historic event with renowned Lincoln reenactor James Getty as Abraham Lincoln.
The meeting was called to order by President David Smith of The Civil War Roundtable of Greater Boston. This was followed by the Pledge of Allegiance and a moment of silence for all fallen service people and citizens of Mass. & the nation. After a description of the main event by David Smith, the Mass 150 Sesquicentennial Commission Chair and v ice chair was introduced along with other dignitaries. Commission Chair Robert von Wolfgang spoke about the Commission and its work. David Smith then introduced William Hanna of The Old Colony Historical Society whose book "Abraham among the Yankees" served as a basis for the recreation of the event. William Hanna then introduced Lincoln reenactor James Getty who recreated Lincoln's 1848 speech. This was followed by a question and answer session after which David Smith ended the program.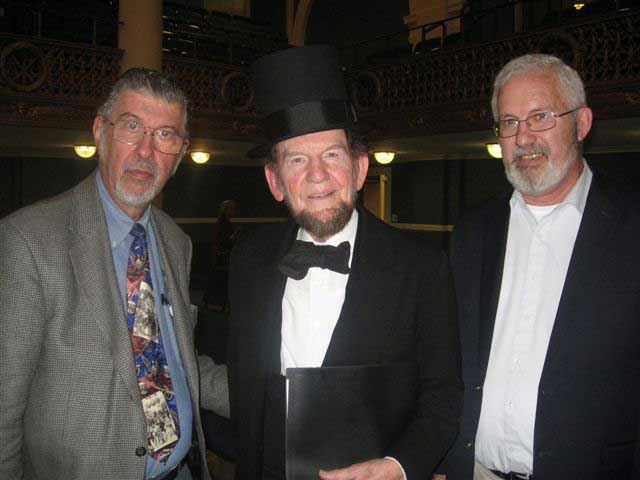 James Getty(Center) with David Smith and Al Smith of The Civil War Round Table of Greater Boston
| | |
| --- | --- |
| CWRT member Bob Hall, Professor Tom Turner, Mass 150 Sesquicentennial Chair Robert Von Wolfgang, James Getty and CWRTGB President David Smith | Greater Boston Civil War Roundtable President David Smith presents a commorative CWRTGB baseball cap to Lincoln reenactor James Getty |